My Story: How I Created Harmony & Wholeness Through The Chaos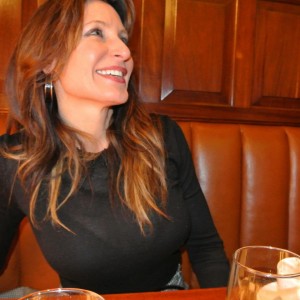 I was born in Bethesda, MD and at six months old my young parents who were only in their late teens decided to move to California. My mother became a model and actress, my father a surfer, artist and stuntman. By the time I was three my parents divorced. My mother and I were nearly homeless and later in life in my teens at one point we actually were.  She had no education. We could afford only canned vegetables and lived in the poorest areas of Venice Beach and Santa Monica. I was a very sick child.
My mom was not educated and had no support while living alone with me. My father traveled often to Europe. I was close to him, but by the time I hit my teens he left the country for good. He married a Greek American Heir to the First Bank of Florida residing part time in Athens and part time on Mykanos, Eos, Naxos and Aegina. They spent their winters in Mumbai and Goa.
My father is an artist, writer, actor & loves to play the hermonica on the beaches. He lives a great life, but feels no attachment to family. This all left me very neglected and alone as a young child. Being an only child with no family and parents who were partiers and pursuing their dreamsmade it hard to feel I had a home.
My friends and family back East were my anchors. My nana would put me in piano and ballet classes. She always tried to take care of me. I ran the streets dirty at times barely clothed and had hair knotted up to my shoulders. It was one year when I was six that I lived with my father on Malibu Beach. His girlfriend combed my hair, which wound up surprisingly very long and at the center of my back.
I remember surfing with my father who later became a Malibu legend who also held skateboard contests. He had long hair and a beard along with a lot of drugs in his home. I had two parents who clearly were not ready for me as a responsibility nor were interested in being parents. They did love me, but they both seemed to love themselves and their lifestyles more.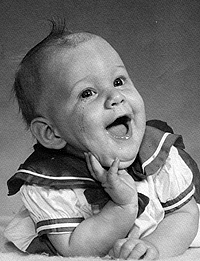 After moving over 40 times around the Los Angeles Area, attending schools in Venice, Hollywood, Beverly Hills and Calabasas, I grew up in the fastlane.I became a little actress at seven and did several national commercials. I was always outgoing and loved the camera. I emulated my parents who were very attractive and in the entertainment business my whole life. My life is a true Hollywood story.
My mother at one point had become a Scientologist, my father a proclaimed Buddhist. I eventually tried many religions finding my home as a born again Christian and eventually was baptized as a Catholic in 2006. Today, I am a mesh of spirituality and combine some philosophies of Buddhism and Hinduism together along with my deep faith and love for Jesus.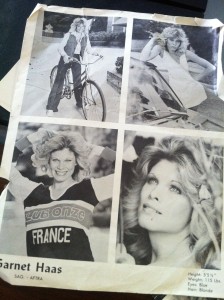 An old comp card of my mothers from the 80's when she was an actress/model.
My father and I regardless of the distance were still close and staying in touch, but I never really have understood how he could feel no desire to be more involved in my life. My mother tried to survive, moving us in and out of various homes trying to create something stable for us in any way she could. She was one of the most beautiful women most would say they have ever seen, but life took a toll on her. Men, drugs and alcohol eventually wore her spirit down.
I spent my teens looking after my mom, wondering where she was, having no family support or siblings to help me. I was lucky enough that my aunt and uncle had me move in with them in eleventh grade. I went to Bethesda Chevy Chase High School for one year in Bethesda, MD, while living in Chevy Chase.
I was suicidal in my teens and this gave me a chance to regroup from the drug insanity taking place in my home that I had to deal with. It was a chaotic upbringing that left me very traumatized. We had a lot of characters in and out of our home. Including a godfather, a heroine addict and a prostitute. My mother took everyone in and tried to save people when she needed saving herself.
I left to Maryland giving up hope and believeing my mother may not survive. She was that bad off. I felt bad leaving her, but I could no longer carry the burdens of someone not willing to help herself.  At the time we were going bankrupt and were losing our home in Beverly Hills in Benedict Canyon. It had the most amazing view and was nestled right next to Liz Taylor and above Sammy Davis, Jr.'s house. When the repossession took place all the personal items we had were also taken, along with a 58ft yacht called the Starship (once the creator of Star Wars' boat) parked right next to Sly Stallone.
My life was what dreams should be made of attending Beverly Hills High and living next to all these celebrities.  We seemed to have it all on the outside. You would think having a stunning mother that men took care of, living at the top of Beverly Hills and going to school with Vidal Sassoon's daughter, traveling with Vidal and his family, being friends with Marvin Gaye, Jr and attending school with Pauly Shore and Smokey Robinson's son, but for me those were the roughest years of my life.
I had the pressure of not dealing with my own emotions, but hiding the secrets taking place in my home. I had to deal with the shame of having a drug addicted mother who often left me for days and a father I felt abandoned by. I was suffering and my anxiety turned to depression. Having no father to turn to and a mother in this condition had the school trying to take me away from her. Thank God I had so many wonderful friends who did care for me and help me through this time.
My 11th grade year I begged my aunt and uncle to take me in and they did. I went from a size 2 to a size 11. I worked, I got straight A's and I lived what I call a "normal" life for one year. I had always idolized my cousins and family here wishing to just have something consistent and stable. I excelled in those environments.
The next year my mom was living with a new man, her now husband Armando, who she met that saved her from the Beverly Hills shipwreck. Although he turned out to be an interesting character who was not all that he claimed to be. He did however, have a great heart and was always there for me. I was there for him until the end of his life. He died in 2013 of liver failure and suffered from his own additions and demons.
in 1986, I graduated from El Camino Real having no friends and began fresh. I had a good year and right after high school went on to become a Cosmetologist while attending Santa Monica College. Since I had moved so many times I missed Chemistry and regardless of my straight A's and being a gifted and talented student, I had to go to a Jr./Community College. I had no help figuring out even how to apply for a regular college and I remember it all being a disappointing blur. Again I worked at restaurants and went to beauty school. At 19, my mom had a severe relapse and this time involving her new husband.
I was in the worst shape of my life and returned to thoughts of suicide. I attempted it, but was saved by the fire department. I don't know that I really wanted to die, I just new I got tunnel vision because it seemed my spiral of fears were all coming true. I was to young to see the bigger picture and how this would all play out later in life.
From that day forward I made a decision to leave the mess there and move to Maryland near my grandparents I had two sets of them at the time. In 1989, I came back worked hard, did hair and got off on my feet again. My mother, I had left a mess, I did see my father that year and lived with my grandfather for a short period of time until I got my own place. My mother eventually became well again and followed me out here with her husband.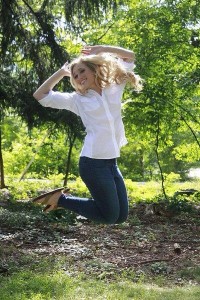 My daughter now is a health & fitness blogger http://stayhappyandfit.tumblr.com
It was in 1993, I gave birth to my daughter. I lived with my mom and stepfather since I did not marry her father. I began as a single mom struggling on welfare. Not the life I had envisioned to have in Maryland. My daughter was an unexpected pregnancy that happened while I was on the pill, but she is the greatest blessing in my life.
Like my mother, I had not finished my education, but came very close attending Montgomery College and working full time doing hair at some prestigious salons, while working as a make up artist in a department store, as well. I eventually decided to quit all schooling & jobs. Instead I worked for myself and,did hair and make up at homes and started CREATIONSBY MICHELLE. Her father had mental struggles that made him hard to handle. I did not understand at 24 and thought if I changed, he would. Didn't happen.
I breast fed for 9 months, bringing my daughter with me to appointments. I was very happy being a mother and felt a great sense of purpose! In time, I returned back to work, this time in an office. I started out on WELFARE with NO SKILLS and wound up becoming a high level Executive Assistant and I moved into writing and editing for Marketing Services Department and eventually becoming a Marketing Director. In 1998, I married a man I met through work much older than me who was British. I was married only a few short years. My marriage ended with an abusive incident. I had step kids that I lost with the end of our marriage who I spent a great deal of time helping through school and I got my step son out of the drug world into the working world. I had been through abuse once before and decided to end my marriage immediately and start over.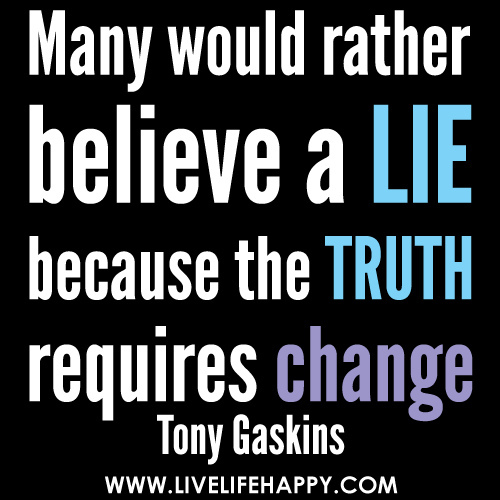 I started my life over in Rockville. I had a successful Massage Therapy practice in health clubs. I had started fulfilling my dream to own spas, so I created a mini spa version at three health clubs. I had multiple therapists and I was making good money so I knew I would be fine on my own. Divorce took a toll on me and I wound up depressed, going through my money quickly and eventually selling my businesses.
My husband and I were multimillionaires, but I felt a need to just end the marriage and move on without fighting for the assets. I did however, miss the 8000 square foot home and first class trips around the world. I was also on the board for the Arts Programs and on the PTA BOARD.
I left my marriage with a black eye and wounds I could not hide from the school or my neighbors. All over a drunk incident involving alcohol. I had nothing to do with. I was completely sober and somehow wound up beat up by both my step father and my husband all at once. It was a bizarre incident that although was a mistake on both their parts, I was rushed to the hospital while they all fell asleep completely intoxicated. This is when we discovered my stepfather had liver disease and why when he drank he was having delusional episodes. I have no ideawhy my husband took the opportunity to hurt me, but he did and he shouted "go back to your two bedroom apartment", so I did.
He did later regret those words, tried to resolve things, but that was enough for me to realize the man I married was not as nice as I thought and all the secrets he was hiding were out. This  is why he began to resent me. I was on to something and had begun questioning his honesty. He did try to work things out, but I never spoke to him a day after I left. I was done.
After having such poor judgement again and again I lost my self-confidence with relationships and started to believe I just would never have a healthy one. I became a different animal. I resented putting my daughter and I in this situation that was not authentic, I realized I needed to find myself again. Somehow when I moved into my 950 square foot apartment at the Grand in Rockville, I was given a great opportunity.
It was right as I was closing the doors of my business and was an opportunity to TEACH YOGA. At the time I was only a student. Within one year I was teaching 25 classes per week and had over 350 students following me, claiming they loved the spiritual messages I expressed in class and my own vulnerability I was sharing. Then one crazy night I was watching ESPN and saw girls doing one arm pushups and aerobic routines with strength moves. I was impressed and called to find out more. I entered a local show within 8 weeks weight training for the first time in my life.
I was a size 8 and went to size 2. I could not believe I was on stage, a once conservative wife involved in pageants was now on stage again doing FIGURE POSING. I went national right away to my surprise and from there I was hooked. I lost my interest in YOGA and began teaching all I learned competing that year. I did seven shows and was a very successful competitor in two different divisions Fitness America, OCB & the National Physique Committee. My loyalty now remains with NPC who I feel is the real deal when it comes to competitions, it's the lineage that led me to the most success! I was featured in magazines and writing for them on health and fitness.
I became a public speaker and spoke at Suburban Hospital to three hundred breast cancer patients on mind body modalities that were validated by two prominent doctors.  My workouts and teachings were being validated by high level doctors?! Wow, It felt amazing! I was on a roll. My mom was healthy and working, everything seemed in balance.
After all this success, somehow I got sucked into another terrible relationship. It was the worst relationship of my life and wound up a very battered woman. YES AGAIN. This was my rock bottom or relapse into the addiction I had to drama and bad boys. I can't even get into it because I'm still in disbelief I survived it. I came out with a bad case of PTSD. My career, daughter, my body and my spirit were in a crisis. You don't get over someone putting a knife in your face and saying you look like a "hag" or that you are all "washed up, ugly and old" or someone shooting a gun right after pointing it at your head and then watching him threaten to shoot himself if I left him. He beat me up badly in Costa Rica in a place I was completely vulnerable. Later apologizing and begging him for forgiveness. I lived in chaos not knowing what to do or where to turn. I was ashamed to admit I was in this situation at all being abused.
I went through a lot of therapy to heal on a clinical and spiritual level. I was in a very dark place and no one knew me because I was so strong and successful. My clients at the time begged me and did all they could to support me through this awful time. They saw the bruises and new I was a victim. I didn't want to think of myself as one. In many ways, I felt responsible. He convinced me of it. I could not image I could be vulnerable ever again to abuse.
I found out the truth and that the person I thought I knew was very ill and had a severe drug addiction to multiple pills, cocaine and alcohol. This all made a lot of sense to my "norm" and upbringing. He did not even remember what he did at times, which I realized meant, I really was in serious danger and could have been killed leaving my daughter with no mother. This was a tough time for my daughter who was very in tune with the fact that this man was not good for me. She would BEG me to leave him. She was angry at me for lacking the strength and would see me struggling on a regular basis. She would not buy into his cons or let me convince her to. She was clear he was a bad person and that I needed to get away from him.
I had nothing left inside strength wise at the end, everyone around me warned me, tried to help me, but I could not see the signpost that said get out. I kept going back for me like a drug. The highs were high and lows were just awful. Finally, one day after getting therapy I realized I deserved more and the person I had become was not me at all. I had to change. I sat in his support groups while he was forced t go to rehab for his third DUI. This is when I learned this was much more than alcohol. I felt very nieve.
Getting my strength back through therapy and learning the truth was one of the most freeing and transformative moments in my life. I learned I tolerated so much of this because it was my childhood demons that were holding me back and I did not have the skills. I needed help and understanding from a professional who could explain it to me. The signs, the red flags, the whys.
Once I had them thanks to the Abused Persons Crisis Center and the help of a spiritual teacher Maryke Barclay, I found myself again. I became a speaker for Domestic Violence and was invited to do a a Calendar as a fitness model/survivor.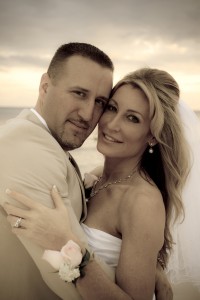 In time, after weeding through even more shady characters and going through a few more brunts along the road, God gave me a great gift! I found myself again and met my now husband. I am grateful to be with the opposite of what I was always attracted to. I thought intimacy was lust. My husband is a kind loving soul. I met someone who was finally truly interested in me and not just my body or their ability to manipulate me.
I made a conscious decision, ironically that very day, to shift gears and go in an "uncomfortable direction".  This decision has changed the course of my life. My daughter took an instant liking to Mike, which was rare. They just clicked and I do as well with his son. It took me being in this relationship to realize what love is and what it is not. He had to fight me for a long time because I was terrified. I did not trust men, nor did I have a reason to. I didn't trust myself. No marriage is a walk in the park, but after what I went through, this felt like it. Men always let me down and did very hurtful things to me throughout my life. Even when I was growing up. It's amazing how finding true love can heal the wounds. Mike came with his too and we have worked through a lot together as a team, as a family. This is all new to me. I now have the family I always dreamed of.
Everyday, I am thankful for the angels who were in my life, like my grandparents who were always there for me. I appreciate those who have accepted me unconditionally. Shame kept me from getting help and I had a lot of guilt keeping me in spiritual prison. I hated sharing any secrets about my past because I didn't want to hurt those I love and expose them. This was a great burden I lived with. Their issues are a big part of MY STORY. It was sitting in rehab with that one boyfriend I realized these were not my issues, I was not an addict, I had been a victim of the addictions and shady ways of those around me. I had enough.
I learned to hustle, to work hard, to survive, the care for others unconditionally at my own expense and be accepting of a lot that most would not tolerate or ever consider dealing with. My tolerance and my need to stand by my man, my troubled family members, and all in the name of love, was crippling me. I developed physical issues – fibromyalgia and chronic fatigue as a result. I had many bouts of depression and the worst were the plaguing thoughts of suicide.
My deep love for those around me should be a strength, but it became my weakness. The good news is, I learned how to create healthy boundries.  I had to first get myself straight to find what I really wanted and that was true love with the right foundation. I had to do a lot of soul searching. I am always revisiting the needs of my soul. Fitness has been a great vehicle, especially yoga, when it comes to feeling grounded with my inner strength.
After many years of ongoing stress, chaos,mental and physical trauma, I was in pain. For six years, my body was suffering with symptoms that mimic MS, a neurologist knew that I had more than a previous diagnosis of Fibromyalgia and Chronic Fatigue. She discovered I had a protruding disk and nerve damage in my legs. From being hit in the head, I had slight damage in my neck, as well as, to my right eye. I am sure from some of the abuse I endured. I never had any accidents or injuries I recall, other than a shoulder injury from fitness competing. Although all of this was unfortunate, I was actually relieved to know I was not dying because I wanted to live. I wanted to have a purpose and fulfill it.
As soon as I realized I was not dying, I went to work for Gold's Gym and became one of their top three revenue drivers in the Nation for personal training. I had over forty trainers under my supervision at two of their premier East Coast Signature Clubs in Arlington and Fairfax, VA. This came natural to me after having once creating and managing a weight management center for Merritt Athletic Clubs.
I rebuilt my confidence and eventually quit my job to help my grandparents on my fathers side who were struggling. I got them settled in Assisted Living and Nursing homes. I helped my daughter graduate and sent her off to college. I then got ready again for my comeback.
In 2011, I went national again quickly this time as a Bikini athlete and made it to Miami Nationals by November, which was my goal. I had not competed in that show since 2003. My last year competing was 2005 and now I was back and I felt my personalbest. I placed well at Nationals, which at 43 years old against the youngens in their teens and 20's, I am very proud of. In 2012 I placed 2nd in Masters for the IFBB North American Championships. I later went on the next year to get a Pro Card winning my class at the 2013 Team Universe at 45 years old. In 2013, I became an IFBB PRO with the federation of bodybuilding in the sport of bikini.
So many doors have opened and I now have a sponsor that supports my show. I have developed a high placing competition team – www.team-knockouts.com who are rising stars in the industry. My girls havea 95% success rate on stage.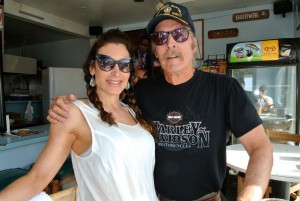 With My father in Newport Beach on a recent visit he made from Greece – we are still on great terms!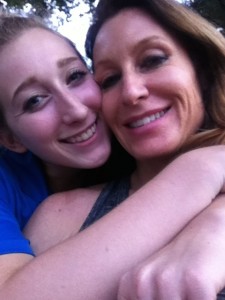 Everyday, I am grateful for the Angel God Sent me that grounded my spirit, gave me purpose. We have lived through a lot as a team. 
Workingout has helped me copewith the stress in my life, find myself and fulfill my dreams. I had no idea this would all be born from just taking a risk and saying yes to a few things and believing that I could do anything. At times, I felt delusional,but when things came into fruition and all the puzzle pieces fit together, I realized something magical had happened. God was working for me and not against me in my life!
This deepened my faith even further and made me even more loving, compassionate and accepting. Right after Miami Nationals, in Nov. 2011, I came home had a courthouse wedding with family and then Mike (my wonderful current husband that doesn't have a harmful bone in his body) and we eloped to Riviera Maya. We had our dream wedding on the beach. It was so romantic with just the two of us.
We all have a story. Never judge a book by it's cover and remember that everything happens for a reason. All events good and bad are guiding you to become who you are meant to be! My career is once again at an amazing high. Michellefitness.com is back and better than ever….I am writing books, doing videos and I have more experience than ever to guide you to succeed. I am here toand help you reach your personal goals! I don't know that I have the skills or income to do all I want now, but I do finally have the energy and I feel my all time best!
Most importantly, I feel a deep sense of worth knowing, my life has purpose  and is not about ME, but about serving others. The reason all these things happened is so I could arrive where I am today. I have a story that helps make me the fitness professional I have become and the great writer I hope to be ongoing!
I hope to serve you on some level! Please email me at michelle@michellefitness.com. If you want spiritual coaching, a speaker at your organization or an online fitness program, I can help you.
Join me if you are looking to begin your great adventure and develop a better understanding of how your body, mind and spirit all = Peace, Joy, Success & True Happiness!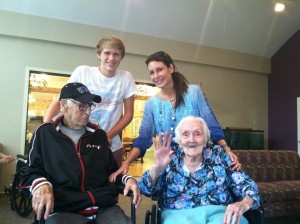 My wonderful Grandparents have passed, my purpose has changed, I know they are looking over me now.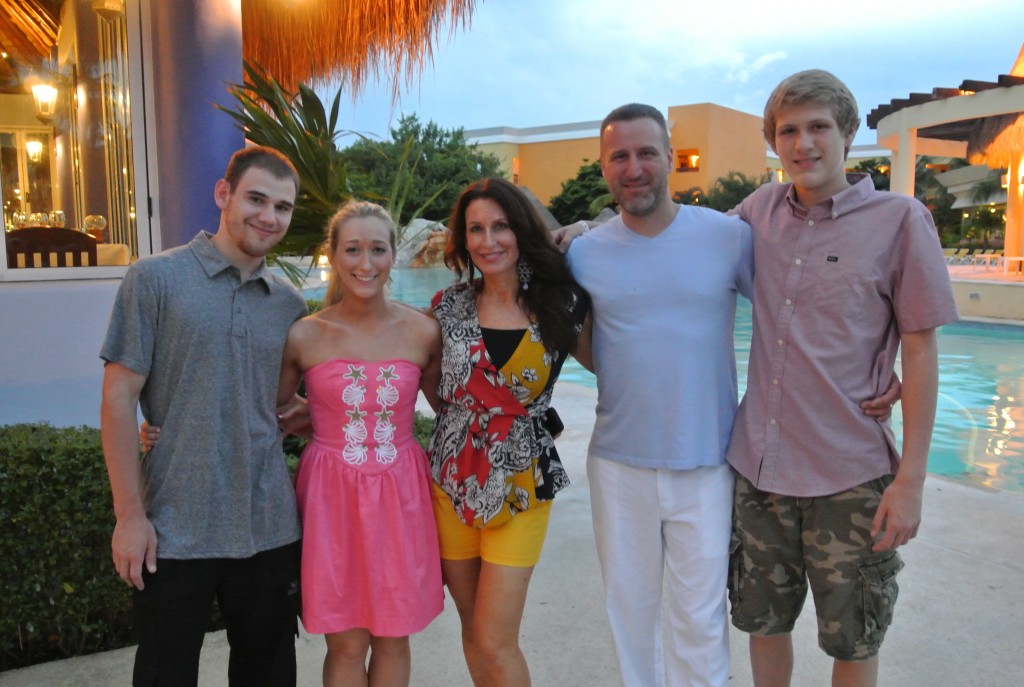 With the love and support of my family now, I feel like I can conquer the world. The balance I have created over time by letting go of what no longer serves me, makes it much easier to succeed!