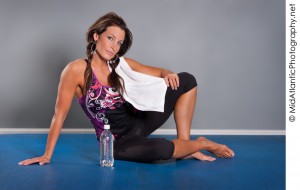 Do you know what hormones make you fat and which make you thin? Are you aware of the vital role they play in reaching your weight loss and bodyfat reduction goals? Are you aware of the importance of developing muscle to ensure you stay lean? If you do not, your time and effort in the gym and the way you are eating may be doing the opposite of what you hope. The best way to tell is to take a look in the mirror. You are either being effective or spinning your wheels. It really is all about your bodies chemistry. Food plays a vital role in triggering hormones. The hormones are what make you fat, thin, "skinny fat" and can especially make you feel whacky, balanced, sick or well. It is important to understand how what you eat plays a role in all of this.  When I have hit my 40's, I learned the importance of understanding the game of hormones and what I could do to manipulate the nature of my own body in a positive way! This path helped me achieve an IFBB Pro Card in Bikini.
The past couple of years, I had a lot of tests done that were really inconclusive. One doctor told me my estrogen was very low and POST MENOPAUSAL and another said my progesterone was HIGH. I was very confused because I know my body by the way it looked and felt was out of whack. Depending on when I took the tests made a difference in the results. I got ready to accept that I was peri if not post menopausal, which is contrary to the truth. However, this experience taught me a lot about how my body changed once I did hit 40. I understood some of the struggles my clients were facing, now I realized there was a lot of truth to this change that happens in life. We really have no control over it. It happens to both men and women equally.
Fat is primarily dictated by hormones. I was not feeling great due to fibromyalgia and chronic fatigue for about six years. This is post my figure & fitness competition experience in 2002-2005. My adrenals were burnt out and I was struggling with weight loss. I had gained 30lbs. The weight I put on changed the shape of my body. I went from being a pear shape to an apple. My body morphed into something I did not recognize and it was something I felt like I had no control over. I was very upset, of course, and became an investigator. I investigated everything and everyone I could to find out, how could I get this fat off my body without suicidal workouts and dieting so intensely that my life was miserable. This was a hard place for me to be as a top level trainer in this industry. I had no solution for myself. I began to do a ton of research because I was determined to break down this stone wall. The only positive was that I did know this was happening for a very profound reason. This could take my knowledge as a nutritionist and trainer to the next level. I realized how many clients I had and people I knew had hit this plateau in their life and are really at a loss about what to do about it. Most trainers and nutritionists do not address this very issue which is the key to success and is common sense. My clients had thyroid conditions, diabetes & other hormonal health related illness that seemed to respond well to the nutritional programs I was prescribing. I kept trying to rely on old competition programs for myself, wanting THAT body back and training the same old way. I just didn't understand why it worked then and not now! It was very frustrating finding that those programs were making me look worse, not better.
The first thing I did was try every exercise & supplement on the planet. Still no reaction! I then read the book by Julian Michael's called Master Your Metabolism. I went to purchase all and every fat loss supplements on the market and would do anything just to lose a pound. What was interesting, is that I found this very thing in common with all of my clients with the same struggles. They also had given up on trainers and were in programs like Weight Watchers, NutriSystem, etc over good old fashioned meal plans that address hormones. Bodybuilders understand this way of eating very well and is why they are able to manipulate and change their bodies in unreal ways! Yes, many use hormones to manipulate their physiques & super enhance their results. The point being is NOT that I believe in that, but that you must understand that even if you are injecting them, clearly there is something to say about the impact hormones can have on your body on extreme and lower levels. It can certainly be a way to achieve a certain look. This we do know to be true. Hormonal replacement when progesterone levels are low, often leads to weight loss, but does come with it's side effects. We get upset with bodybuilders on drugs, yet many use hormonal replacement for the goal of weight loss. The difference is it is prescribed. Prescriptions make things okay, in the minds of consumers of course. Yet, some prescriptions are the most lethal things we can put in our bodies and are being abused and misused.
The average person will never use a drug that has such a dramatic effect, but there are much softer and legal ways to make your hormones react favorably than even hormonal replacement. I personally would rather do it in a non addictive way, since any drug you have to pay for will be addictive and nearly impossible to duplicate with everyday resources. You don't want to have to get hooked on something "iffy" to look good long term. You certainly don't want quick fixes either. Fat burners are not regulated and can wreck havoc on your adrenals. There is no proof that the majority even work. Creating a natural thermogenic effect with HIIT training and intensive exercise for bouts of 20-30 mins is a known way to trigger your hormones favorably. Long bouts of exercise and overtraining will trigger them in a negative way. This can have an adverse effect on your health and hormonal balance, especially if you don't feed the muscle and fuel the machine properly.
One day I was researching solutions for fibromyalgia and I came across a new study they were doing with HGH. It explained the role of HGH with energy and pain. What a great solution for a person suffering with fibromyalgia like me. The problem is you can't ethically get it from a doctor and it must be prescribed or it is illegal to inject the good stuff. So your solution is to buy stimulators that are over the counter.  This is where many get into a vicious cycle they want to buy GH illegally, but don't understand how serious the side effects can be. If you want to learn them just GOOGLE the possibilities. If you acquire it illegally, then you get hooked on the need for more and this will be an ongoing expense, which is very high and you will risk getting a false dose, which is really HCG. Another thing that helps with weightloss with a low calorie diet. Illegal substances are risky since you could end up with a bad dose from China or Mexico. Do you really want to put things in your body that may not be originating from a legitimate pharmacy and could cause you serious health issues? My answer in the long run was "hell no".
For people over 35, I feel it is not a bad idea to STIMULATE with over the counter stimulators or simple diet and exercise. You do need this hormone for many reasons that are beyond bodyfat. Doctors are looking at this hormone more seriously.  Many products on the market now are desperately trying to duplicate these results over the counter. When I became my most desperate with my "fatness" I paid and went to see a nutritionist.  Another, big thing that hit the market were diet pills that even celebrities were taking. Here is my experience with this! My dear friend used this woman and lost 10lbs. What is the secret that this nutritionist has I wondered. My friend was in the same funk I was in, only she was 10 years older and had a baby at 48. The nutritionist had written a book called "The Stress Less Diet" and her program focuses on food that lower stress levels. She gave me a bottle of vitamins also. Her secret weapon though was far from a great program, she prescribes PHENTERMINE. I thought this can not be healthy and the fact that I was being prescribed a drug made me uneasy. She charged a lot for me to see her for this prescription. I have to admit I tried it for one month and I lost 10lbs. However, I have to say, I was also dieting and exercising. The drug stopped working and my weight stopped changing. I decided to save myself the $275 she wanted to charge for the next prescription. Her actual role as a nutritionist was elementary for me and I really did not need her diet or her advice. Everytime, I went for a check in, which she never insisted on was important, I really got very little coaching that set off any light bulb moments. I decided to go back to my own methods and with that I am succeeding in conquering my weight loss once again. I am relieved that I am still full of my sex hormones and that it was a false alarm that I would be going into such an early stage of menopause. It made no sense at all to me and just imagine if I had listened to the doctor and got on replacement hormones. I could have had too many hormones. Oh lordy!!! It is true that after under going a lot of stress, your body may react to that. This was the case for me. I had a lot of was managing with my grandparents at the time and it took a toll on my body, mind, job and relationship. I was beyond exhaustion. I believe that my body swelled as a post traumatic stress type of thing. I then learned that food can help me come to balance. I purchase a product called Green Vibrance. This product I put in my morning whey shake with berries. It helps trigger the hormones that make you thin.
It's important that you get your bloodwork done and ask for a hormonal work up. Also, have your Vitamin D levels tested. Very important! You can also get your HGH, Cortisol & leptin levels checked.
Here is the skinny on hormones:
HGH – helps you grow muscle. When people hear the term HGH or see a product on the market with the words "GH", they assume it's actually growth hormone. It is actually, not growth hormone at all.  The growth hormone is already in your body, the H stands for HUMAN. This is something like Arginine & Lysine that when combined make a powerful natural GH stimulator. This is so the GH that is already in your body can come back to life!  HGH forces you to use your fat reserves for energy. In turn, you grow new muscle cells and become a fat burning machine. You can take 2000mgs of Arginine & 1000mgs of Lysine or get a product like GH Factor, by Beverly International or "Secretagogue" from the Vitamin Shoppe. Secretagogue Gold is developed by a doctor who specializes in age management. This doctor gets  how important this is. HGH is important especially if you have pain in your body or fibromyalgia. This can help you deal better with low energy and aids in recovery. Do not eat Carbs at night  – This will help you boost muscle growth at night Get plenty of sleep – this also ensures that you grow muscle. When you sleep deeply you stimulate HGH in your body. Foods that you should eat – Whole grains, legumes, veggies and proteins. Be aware that chemicals and pesticides lower your HGH levels. It is best to eat organic. There are some doctors who will give shots, but It is costly. It is best to preserve your muscle by saving the most amount of money and finding these natural ways to get great results. This along with exercise stimulates this hormone.
Testosterone vs Estrogen You will lose testosterone as you age and yes, ladies, we have testosterone. Foods similar to those that build HGH also help build testosterone. B vitamins are definately a must and protein sources. Estrogen is tricky and is the yin of the hormones. Clearly, testosterone is the yang. It is important that estrogen and progesterone are in balance. These two work together. Estrogen can be a positive thing for moods, health and if you want to have a baby. However, when in excess it causes unwanted fat on the body. Estrogen dominance occurs when there a chemicals on foods, your diet is high in alcohol, carbs and sugars. Many of the animals we eat are full of estrogen compounds that make them fatter. Be sure to opt for hormone friendly foods. You want to go with grass fed, true whole grains (not fillers), organic and avoid using anything with plastic, when and if you can.
Cortisol – This hormone is triggered by stress. Elevated cortisol levels will waste your muscles. It is important to keep your stress in check. Many of us are so into the daily grind that we do not even count the fact we are running on this "adrenaline" as stress. Well it is and your body must rest and recover. It is important to also recover after workouts and not to overtrain. Too much time and effort can also trigger cortisol, which in turn, works against your efforts. Rather than rely on a diet pill, think more in terms of chemical reactions you can take with food and exercise.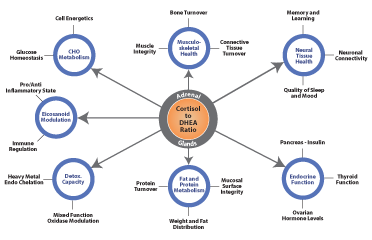 A few other things that effect you that may want to know more about are hormones in your body that cause you to crave foods like this one:
Lepitin – If you have trouble with cravings or have a hearty appetite, Lepitin may be the culprit.
Some things to watch out for are foods like, Asian. Jackie Warner in her book "This is Why you are Fat" says  that the MSG in the food is a cause of obesity. Eat a lot of clean poltury and seafood. These foods are also full of zinc, which helps balance this hormone. Insulin – It is important that you understand the role that insulin plays on the body. After a workout it is lower and you do need a pick me up food higher in sugar. However, most of the time you want to be careful not to spike your sugar. Sugar spikes from high glycemic index foods works against the body causing it to trigger other negative hormonal reactions that cause the body to store fat. It is good to get a book or learn what the best low and moderate glycemic index sugars are and the time that is best to eat them. I would avoid high glycemic index sugars as often as possible. It is clear that the best foods to eat over for your hormones are: fish, poltury, lean meats, low glycemic index carbs and lots of veggies. Stick to the fruits that also have lower sugars. The best results you get are when you combine the right food choices with 20-30 mins of intense exercise. Challenge your body.
I have found many supplements seem to be inconclusive unless you are low in a vitamin. Some supplements that I personal take, I find really do the trick. I am a big fan and sponsored athlete of BeautyFit.com, which I feel has nailed it, as far as what is effective! 
 Here are the ones I feel are worthwhile:
L-Carnatine – help metabolize fat
Branch Chain Amino Acids (have multiple aminos) – supports muscle growth
L-Argenine & Lysine in combination – helps trigger HGH and balance all hormones, take 2000mgs of Arginine and 1000mgs of Lysine
Multivitamin with calcium – Helps keep stress down & helps build muscle
Kelp – helps with regulation of iodine, which is important for proper thyroid function
Iron – also important for thyroid function and iodine levels
B Complex  – Important for all hormones (try Emergenc packets! you get your Vitamin C this way too!)
Calm's Calcium/Magnesium – helps with muscle and balance the body
Glutamine – helps build strength & synthesize protein
Green Tea Extract – great for the metabolism & skin
BeautyWhey protein – excellent source of protein powder. Gluten and Lactose Free!
RawFit Protein – Vegan Protein Powder
ALA (Alpha Lipoic Acid) – it's a fast absorbing fatty acid and will help support your body with oxidative damage from over exertion or exercise. It's also great for aging and helps with free radical damage.
CLA (Conjugated Linoleic Aci) with Tonalin will help with acquiring lean muscle mass. This diet product comes from safflower oil and is claimed to hinder "lipoprotein lipase," which is an enzyme that's commonly known for breaking down fat cells in food.
Digestive enzymes & Probiotics are very important to ensure you body can synthesize the nutrients you put in it and proteins.  I love Green & Rainbow Vibrance due to the amazing benefits they have and support they give to your digestive tract. BeautyFit also has BeautyGreen & BeautyReds, which do not have probiotics, but are an excellent source of antioxidants and phytochemicals.
Read and learn what you can about what your body needs to ensure that your efforts are not self defeating. Endless hours in the gym have adverse reactions on the body and particularly muscle. Be sure to work out hard, but most importantly eat smart.
If you are interested in a meal or exercise program that will be custom designed to meet your individual needs, please let me know. My services are available at reasonable prices. All programs are emailed directly to you and no program is complete until you feel it is realistic with your lifestyle and individual needs. Sources: Master Your Metabolism by Julian Michaels and This Is Why You are Fat by Jackie Warner.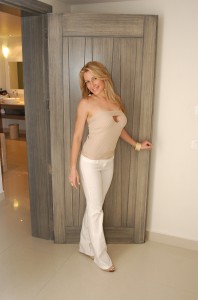 Michelle Johnson in 2011, 30lbs down and feeling mentally lighter! Fibromyalgia resolved naturally.